RiverStar Appointment Scheduler
Automate and streamline the appointment scheduling process for 2-1-1 contact centers, VITA/AARP sites and others.
2-1-1 contact centers across the nation spend thousands of hours scheduling tax counseling and other appointments for low-income families. However, most have no automated scheduling and appointment systems — making scheduling a hassle, and opening the door to over-bookings, under-bookings and no-shows. RiverStar Appointment Scheduler completely streamlines and automates the scheduling process.
Using RiverStar Appointment Scheduler, contact centers can:

Consolidate all appointment scheduling from one centralized location, serving hundreds of locations, e.g., tax centers.

Create a self-service portal where clients can schedule their own appointments via a desktop or mobile device

Eliminate over-bookings and double-bookings with a centralized scheduling calendar that's always up-to-date.

Deliver agent and mobile friendly self-service scripts and notifications in multiple languages.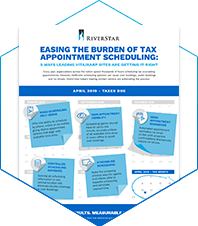 Download the infographic:
Learn how today's successful VITA/AARP organizations are easing the burden of tax appointment scheduling.
Download the infographic now
Download the RiverStar Appointment Scheduler Datasheet for A Full Features and Benefits Overview.
All fields required.