Organization
The Jackson Health Network is a collaboration between health care leaders, community leaders, and physicians working together to improve patient outcomes and safety and reduce overall costs through an integrated system of care.
Challenge
Jackson County, Michigan has a goal of continually serving its community members to deliver quality services that lead to better outcomes across the board. Unfortunately, its clients are increasingly dealing with multiple social, economic, behavioral and medical needs that make this goal difficult. Jackson has realized the importance of multiple agencies working together to help their clients navigate the complex care pathways to get the help they need.
Solution
Using RiverStar's Community Care Hub, Jackson County was able to set up a comprehensive system to assess each incoming client for issues related to the Social Determinants of Health. These assessments are utilized to determine specific needs and the most appropriate care partner to refer each client to via an integrated 2-1-1 referral system. In doing so, Jackson County can proactively assist each client and get them the help they need — and follow via a closed-loop process to ensure a positive outcome.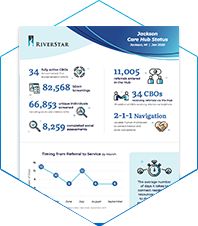 View the infographic
To learn more about the results of the Jackson County Care Hub, download the infographic.
Download the infographic
Download the full case study to learn how RiverStar optimizes customer interactions using technology that's easy to use and results in a positive customer experience. 
All fields required