PHYSICIANS WITH VISION PLATFORM
Physicians with Vision is a cloud-based platform that healthcare practices can utilize to screen for behavioral health issues and substance use disorders. The platform is delivering significant benefits, helping providers achieve the Triple Aim of better care, improved outcomes, and a stronger bottom line.
Physicians with Vision enables practices to:

Offer client screening, assessment, and referral to pinpoint and address underlying social determinants and behavioral health needs.

Easily conduct in-depth patient interviews, with results available in moments to review with patients.

Identify problems with alcohol, common drugs, and opiate usage to ensure a proper diagnosis, referrals, interventions, and documentation.

Develop appropriate care plans with the patient, or refer them to a behavioral health specialist.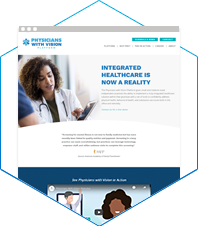 The Business Impact: Lasting Benefits for Your Practice

Confidently address behavioral health issues

Strengthen your bottom line

Improve patient outcomes

Provide a better care experience