RiverStar Utility Assistance
Automating and Streamlining the Utility Assistance Process for Community Care Agencies.
RiverStar Utility Assistance (RUA) was built from the ground-up to make the Low Income Home Energy Assistance Program (LIHEAP) simple and easy for both applicants and agents — designed to maximize efficiencies and increase the number of applicants processed year after year.
RiverStar Utility Assistance allows agencies to:

Offer multiple application options
, via phone, self-service desktop or mobile device — with the industry's most intuitive, easy-to-use interface.

Scale your operations confidently
with a system that grows with you as your enrollment increases.

Determine eligibility quickly
with advanced screening and application logic.

Increase revenue while decreasing costs
with a more efficient and streamlined approach.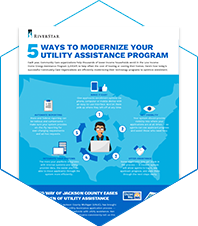 Download the infographic:
Learn how today's successful Community Care Organizations are efficiently modernizing their technology platforms to optimize LIHEAP enrollment.
Download the infographic now
Get the Case Study and Datasheet
Get our in-depth datasheet for more information, and read the case study from the United Way of Jackson County, MI.
All fields required.